Photo by Miguel A. Amutio on Unsplash.com
2022 Fun Runs, 5k, 10k, Half Marathon, & Marathon Events in Ludington
Ludington is an ideal location for runs and races. Right along the shores of Lake Michigan, Ludington features many beautiful roads beside the lake, through downtown Ludington, and on the way out to the State Park along the sand dunes. There are races in Ludington's surrounding areas, as well, featuring more lakefront views and rural settings. Below, you will find dates and information for more annual fun runs and races in Ludington and the surrounding areas.
Due to health concerns relating to the COVID-19 virus, cancellations and changes have been put in place by several race organizers. Participants are encouraged to check with organizers before making plans to participate.
Part of the #RunLudington series, this new 5k/10k will celebrate National Maritime Day and the start of the S.S. Badger Carferry's sailing season. The race starts near Waterfront Park at Filer St. & Robert St. and the course is a 1.55 mile loop, so 5k runners will run two laps and 10k runners will run 4 laps. The course can be viewed here: mapmyfitness.com. Packet pickup will be from 8-9am on race day, under the pavilion at Waterfront Park near William & Filer. This in-person race starts at 9am at Robert & Filer. Race registration is $30 and includes a 3.5″ custom die-cast finishers medal and a tri-blend race tee.
For updated information and to register, visit downtownludington.org/runludington.
The Annual Amazing Grace Race to benefit Covenant Christian and Ludington Area Catholic Schools is held in May near the Hamlin Dam at Ludington State Park. The event includes a free, one-mile fun run for kids only and a 5k open to anyone. Admission for the 5k is $25 per runner and there are prizes for the top five finishers for men and women. Hot dogs, chips, and water will be available for purchase. Pre-registration is required for all 5k runners as well as one-mile fun run participants. Please contact the Covenant Christian School office at ccsoffice@ccs-ludington.org with any questions.
Hospital Hustle 5k & 1 Mile Fun Run
May
Spectrum Health Ludington Hospital hosts this annual event. The race typically starts at 10 am, and begins and ends at the hospital's south parking lot, 1 Atkinson Dr., Ludington. A free will donation will be accepted from participants and all proceeds benefit the Family Birthing Center at the hospital. 
Visit spectrumhealth.org for more information.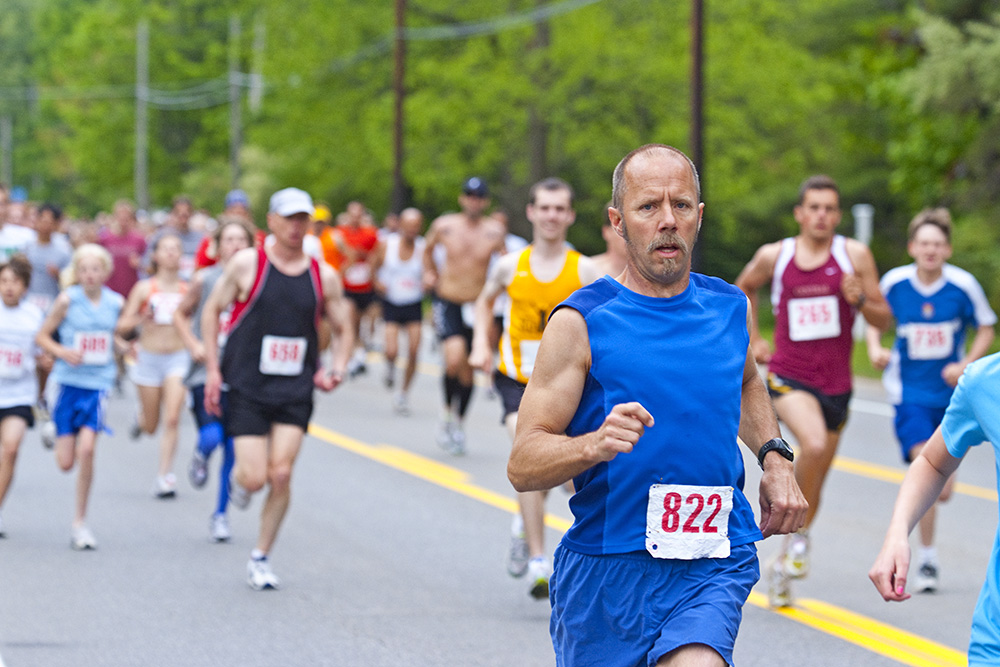 Ludington Lakestride 5k, 10k, and Half Marathon
June 11th, 2022
Since 1980, Ludington has been the host for the well known Ludington Lakestride 5K, 10K & Half Marathon. The weekend begins with a one-mile fun run on Friday evening at 6pm. Saturday's Lakestride is actually three races: the 5K run which winds its way through Cartier Park, the 10K which runs out to Decker Road and back, and the Half-Marathon.
Freedom Festival 1-Mile Dash
July 4th, 2022
This is a 1-Mile Fun Run where runners are invited to run the Freedom Festival Grand Parade route prior to the parade step off to help raise money for the evenings fireworks. The annual fireworks display is funded 100% by donations.
Early entry fee is $25 and late entry online and on race day is $30. Entry includes a t-shirt and a finisher's medal. Prizes will be awarded to top male and female runners. Shirts are only guaranteed to those who register early. Remaining shirts will be available first come/first serve at packet pickup/registration on race day. Packet pickup and race day registration will take place at Leveaux Park from 11:30-12:30pm on race day. Make checks out to Ludington Area Jaycees.
This race is part of the #RunLudington Race series and features an out-and-back route that starts at Loomis St. & Rath Ave. near West Shore Bank. Runners will head to the channel to race the SS Badger out of port, trek a sand dune, and continue along the water's edge at Stearns Park Beach, looping around the water treatment plant then back the same way they came. Race registration is $30 and includes a soft-feel tee from Gordy's Skate Co., a custom 3.5" finishers medal, coupons for Snyder's Shoes and other downtown merchants, and Shine Water at the finish line. Dogs are not allowed on Stearns Park Beach and therefore not allowed in this race. Strollers are discouraged due to the dune climb.
Packet pickup and race day registration is the morning of from 7:30am-8:30am at Legacy Plaza.
For updated information and to register, visit downtownludington.org/runludington.
COVE Benefit 5k/10k Beach Run/Walk
August
Pentwater's Charles Mears State Park hosts a 5K and 10K beach walk/run to benefit COVE each summer. The course covers paved, sand, and beach surfaces. The mission of COVE (Communities Overcoming Violent Encounters) is to provide shelter, advocacy and protection to victims of domestic and sexual violence and other homeless women and children, and to educate our communities about the root causes of violence.
Registration is $25 for early registration and $30 for late registration. This race was also offered virtually in 2021 where participants choose a favorite place to complete the 5K Run/Walk or 10K Run/Walk. Registration for the virtual run was $25, which included a custom T-shirt and a finishing certificate. Check-In and Registration begins at 7am with the race starting at 8:30 am. There are awards and prizes in many divisions and all participants will receive a finishers medal. 
To register, visit runsignup.com. For more information, contact Lynn Cavazos at (231) 869-5939 or lcavazos5939@charter.net.
Ludington Lighthouse Triathlon
August
The annual Ludington Lighthouse Triathlon happens each August in downtown Ludington, where the Avenue ends right at the beach. The event includes biking, kayaking, and running and participants can choose from 6 different race combinations.
For more information, visit 3disciplines.com.
Michigan Adventure Race: The Ludington Edition
October
Teams will canoe, bike and trek on foot, navigating by map and compass beginning at Ludington State Park. Choose from the 5-7 hour beginner/intermediate race or the more challenging 10-12 hour race. Divisions are solo, 2- and 3-4 person co-ed, females and males. Swag includes free compass clinic, shirt, huge raffle and top prizes, pizza dinner. 
For more information, visit miadventurerace.com.
Run for Your Lives 5k & 1 Mile Fun Run
October 29th, 2022
This annual 5k/10k/Marathon/fun-walk/run begins at 9am at James Street Plaza- Corner of Ludington Avenue and James St. in downtown Ludington. Participants are encouraged to dress in costume. Proceeds benefit the Love Ludington Fund and all pre-registrants receive a glow-in-the-dark t-shirt. The first 100 finishers receive a custom medal. 
For more information or to register, visit downtownludington.com/runludington.
Spectrum Health Ludington Hospital and Win with Wellness sponsor the annual race which takes place at 8am on Thanksgiving morning. The 5k fun run/walk starts at the Cartier Park parking lot at the corner of Rath and Bryant in Ludington. There is no charge to participate and all ages and fitness levels are welcome to attend. Festive attire is encouraged! Fit Club students will earn miles toward the 100 Mile Challenge for participating in the Turkey Trot.
Pumpkin Pie Promenade Fun Run
November
Due to the cancellation of the annual Spectrum Health Ludington Hospital Turkey Trot, this informal race has been created. Meet in the parking lot at Rath Ave. & Bryant Rd. at 8am, and take off to make 3 laps around the Cartier Park Loop for a 5k. Feel free to dress up, bring pets and kids, and walk or run Thanksgiving morning. This is just a fun run, so no medals or ribbons will be awarded.
New Year's Resolution 5k Run
January 1, 2023
Presented by Downtown Ludington, this race runs from Loomis Street to James Street in downtown Ludington. Registration typically includes a custom medal, and a tri-blend race tee.
For updated information and to register, visit downtownludington.org/runludington.
This RunLudington event includes a 5k and 10k beginning and ending at the corner of Loomis Street and Rath Avenue. Registration is $30 with a virtual option available for $35. Finishers will receive a custom medal.
Register at  downtownludington.org/runludington. Registration closes at noon on March 18th.